Active Health delivers bigger and better at Heartbeat@Bedok
Company News 12 February 2018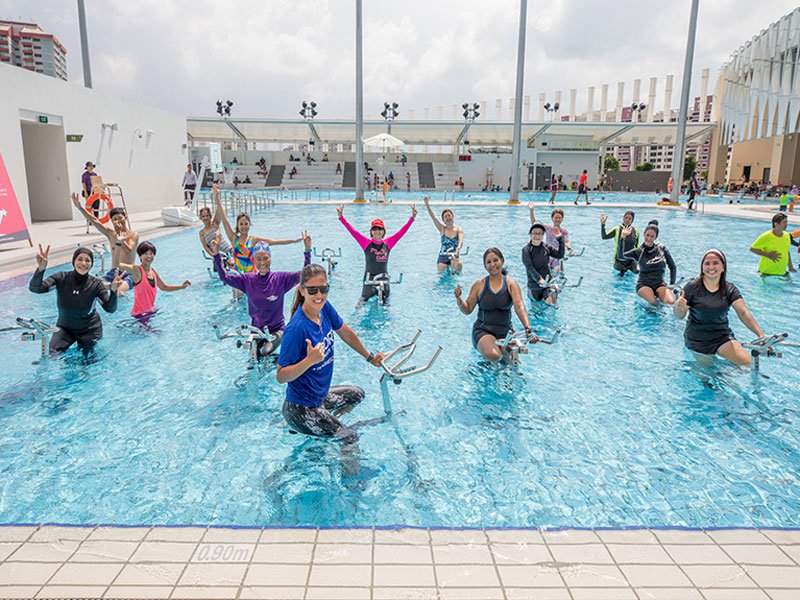 Article by Wong Jeng Teng
People in Singapore will now have two Active Health labs that they can visit, with the second and larger of the two labs having been unveiled at the official opening of Heartbeat@Bedok on Sunday by Prime Minister Lee Hsien Loong.
Located on the first, fourth and fifth floors of the integrated lifestyle hub located in the heartlands of Bedok, the new Active Health Discovery Zone and Active Health lab spans 572 square-metres across three floors, and it boasts a kitchen, discussion pods, as well as direct access to the swimming pool - all of which are features not available at the first lab at Our Tampines Hub.
"All in all, this is a fantastic facility, where [we have] all the capabilities of the lab in Tampines, but [also] a little bit more," shared Kenneth Mc Geough, an appointed Active Health expert from Sport Singapore (SportSG).
Visitors can head to the lab for a free one-hour long Active Health on-boarding session. Once there, their blood pressure, waist circumference, and body composition will be measured.
After which, they will be educated on simple habits they can pick up in accordance to the four Active Health pillars: physical activity, nutrition, sleep, and screen time.
Besides the lab, the Active Health Discovery Centre and Watsons Health Concept store was also opened on Sunday.
This co-owned space will offer visitors a self-guided introduction to Active Health, with tips and information on related Watsons products. Mc Geough continued: "The Discovery Centre [on the ground floor] is a space where people can go in and explore. They can try out some movements, or exercise in the space available. There are also some tasters of the assessments they can do in the lab!"
In line with Sunday morning's launch event, there was an Active Health booth set up at the atrium of Heartbeat@Bedok, where TeamSG ambassadors, Active Health experts, and volunteers guided the event's visitors through the four Active Health pillars.
SportSG volunteer arm Team Nila was also present to conduct a recruitment drive, while free fitness workshops and try-outs were offered to the public by Learn-To-Play Programme partners, as well as ActiveSG academies and clubs.
A member of the public present that morning, 61-year-old Wan Zubaidah attends Zumba lessons twice a week and makes it a habit to take regular walks in her neighbourhood.
She is already a huge advocate of regular exercise, but now knows that a healthy lifestyle comprises of more than just physical activity.
"They [the Active Health ambassadors] said to eat more fruits and vegetables in my diet, and not to take too much juice, which is my favourite," she laughed, adding that she would be trying her best to follow the Active Health recommendations given to her.
As for 37-year-old Kumar Ramasamy, he was inspired to pick up the daily habit of setting aside at least 20 minutes a day for physical activity, after visiting the Active Health booth.
"It was a good experience. The volunteers were calling us to join in to learn more [about Active Health]. They were really approachable and friendly," he reflected.
Indeed, in spite of the fancy equipment and impressive technology, a personal connection is sometimes all an individual needs to be convinced of a new idea – in this case, the idea that a healthy lifestyle is not difficult to achieve.
Chiang Hock Woon, Deputy CEO of SportSG, echoed this sentiment: "Our experts have to be professional and credible, and how they engage people is very important. In the end, if you want someone to own their health, they must be able to trust you," he continued.
Beyond this launch, bigger plans lie ahead to spread awareness of the Active Health initiative to more Singaporeans across the island. "Our vision is really to see how we can get a lab like this, to the different regional zones and our sport centres, to make it readily accessible for our people, [and] our community," Chiang revealed.
Article extracted from https://www.myactivesg.com/read/2018/2/active-health-delivers-bigger-and-better-at-heartbeat-bedok